Rolex Daytona
Paul Newman
Price & Facts

Why the

Most Expensive Rolex Ever
What makes a Rolex Daytona a Paul Newman model? 
The Rolex Paul Newman Cosmograph Daytona is a stainless steel Rolex Daytona featuring a special dial, a so-called "exotic" dial. This dial is different from the regular dials featured on the vintage Rolex Daytona Cosmograph in that way that the painting and design are different.
These dials were ordered by Rolex to Singer. The Daytona racing models were not at that time what we would call "best-sellers" and they tried to handle the problem using more "exotic" design.
They started to propose watches featuring this new dial and even sent samples to their authorized dealers in order the replace with the existing dials on those which sale has been abandoned for there was no demand. These parts can be black with white registers or white with black registers. The minutes indexes can be black, white or red, depending on the references and years. A 6239 comes with red indexes whereas the 6262, just to name that one, comes with a two colors dial, the white dial with black registers being the most sought after (Panda Dial).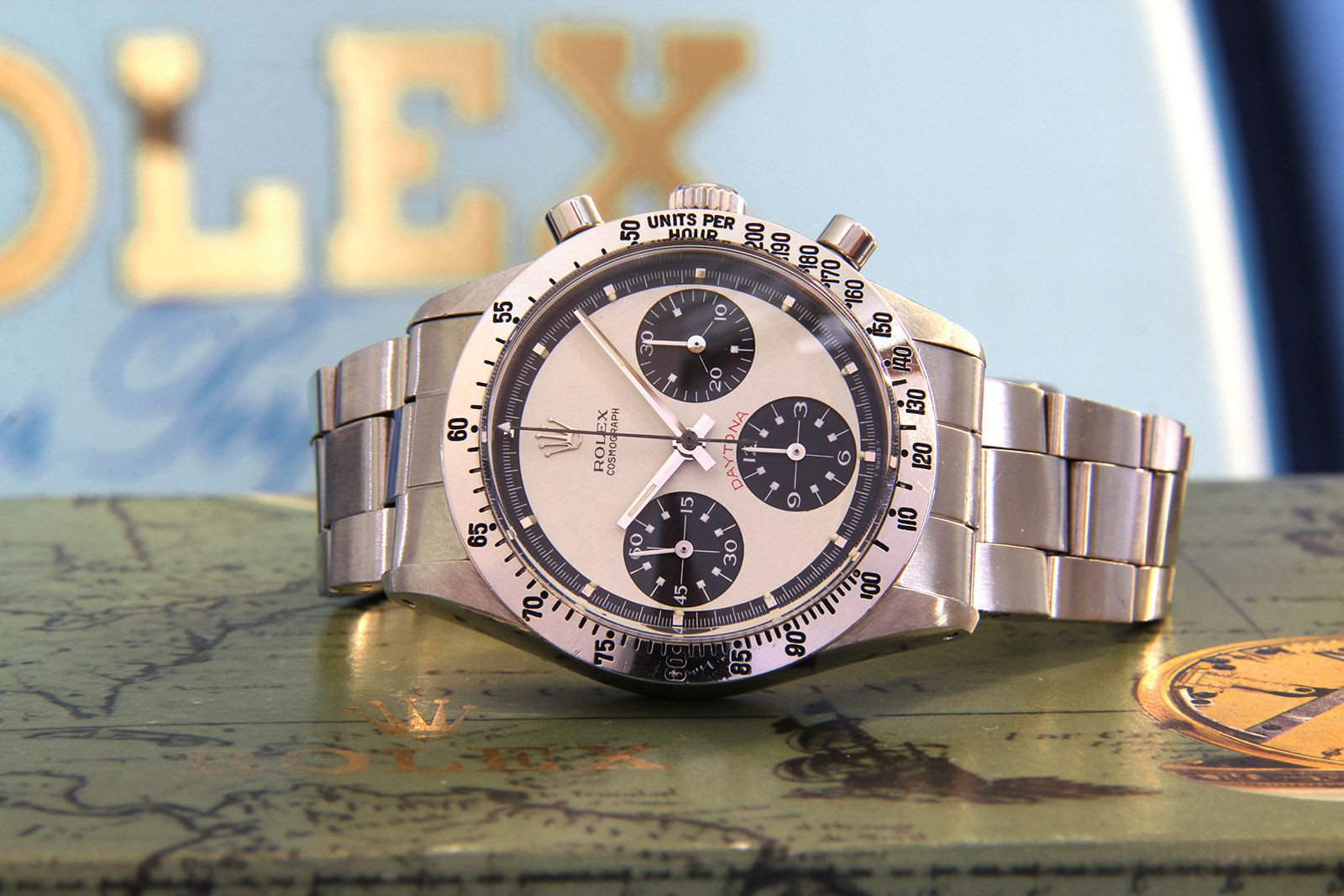 This being said, it is not hard to understand why it is so difficult nowadays to be categorical on which dial goes with one reference or another.
We can assume that this watch would not have been so popular and expensive if the Italians collectors did not start making the buzz. And they did it really good… One of the most famous collector, Osvaldo Patrizzi, can be considered the main starting point of such popularity. End of the 70's, he created Antiquorum, the first auction sale company specialized in watches ever created. And if you look at the old catalogs, you will the first Rolex Paul Newman Daytonas ever sold in auction.
Since 1980, the prices rose like no other product, except art…
Rolex Daytona series and all their references
After decades of observation, we can assume some "rules" on which dial goes to which reference. But this is only alleged by collectors and only based on observation. As stated above, Rolex did sent to Ads dials for their dead stock watches…
Reference 6239
Production: year 1963 to 1969
The first Daytona model watch ever produced. This reference is the one Paul Newman worn for years, along with an exotic "Paul Newman", now you understand. The watch was offered by his wife Joanne and later given by Paul to his daughter's (Nell Newman) boyfriend, James Cox. This watch were sold at Sotheby's in 2017 for USD17.8 Million, making it one of the most expensive steel watch ever sold. Quite an amount for a watch worth the equivalent of today's USD15,000 in the 70's! But that's the magic of rarity and celebrity goods. Another Paul Newman's timekeeper was sold in 2020, a regular Rolex Daytona Cosmograph reference 6263 with a "Big Red" dial. The so-called "Big red" dial is a dial with DAYTONA printed in red on the chronograph register below. The price for such piece, at Phillips Auction house, was USD$5.48 million. Another record.
Reference 6262
Production: year 1970-1971
This reference is very close to the 6239 but with an important difference. Rolex improved their movement and changed it for the new Rolex Valjoux 727. Produce only in stainless steel.
Reference 6240
Production: 1965-1969
This reference is considered a prototype in that way that this is the first watch featuring the screw-down Oyster pushers. This first "Oyster" Daytona was born. Some say this watch never featured exotic design… But this has never been proven nor confirmed by Rolex so this is just a theoretical allegation.
Reference 6241
Production: 1966-1969
The first Rolex Daytona with a Bakelite tachymeter bezel. Collectors tend to prefer Daytonas equipped with this bezel.
Reference 6264
Production: 1970-1972
This is the second "Bakelite" bezel watch with the difference that Rolex definitely replaced the Valjoux 72, Valjoux 722 and 722-1 by the last Valjoux movement, the 727.
References 6263 and 6265
Production: 1971-1987
Rolex decided to prose only two series. Same movement, same dials, same materials (stainless steel, 14k and 18k gold). These references are "Oyster" waterproof and equipped with screw-down Oyster pushers. The only difference being the bezel, one in Bakelite (6263), the other one full polished metal tachymeter.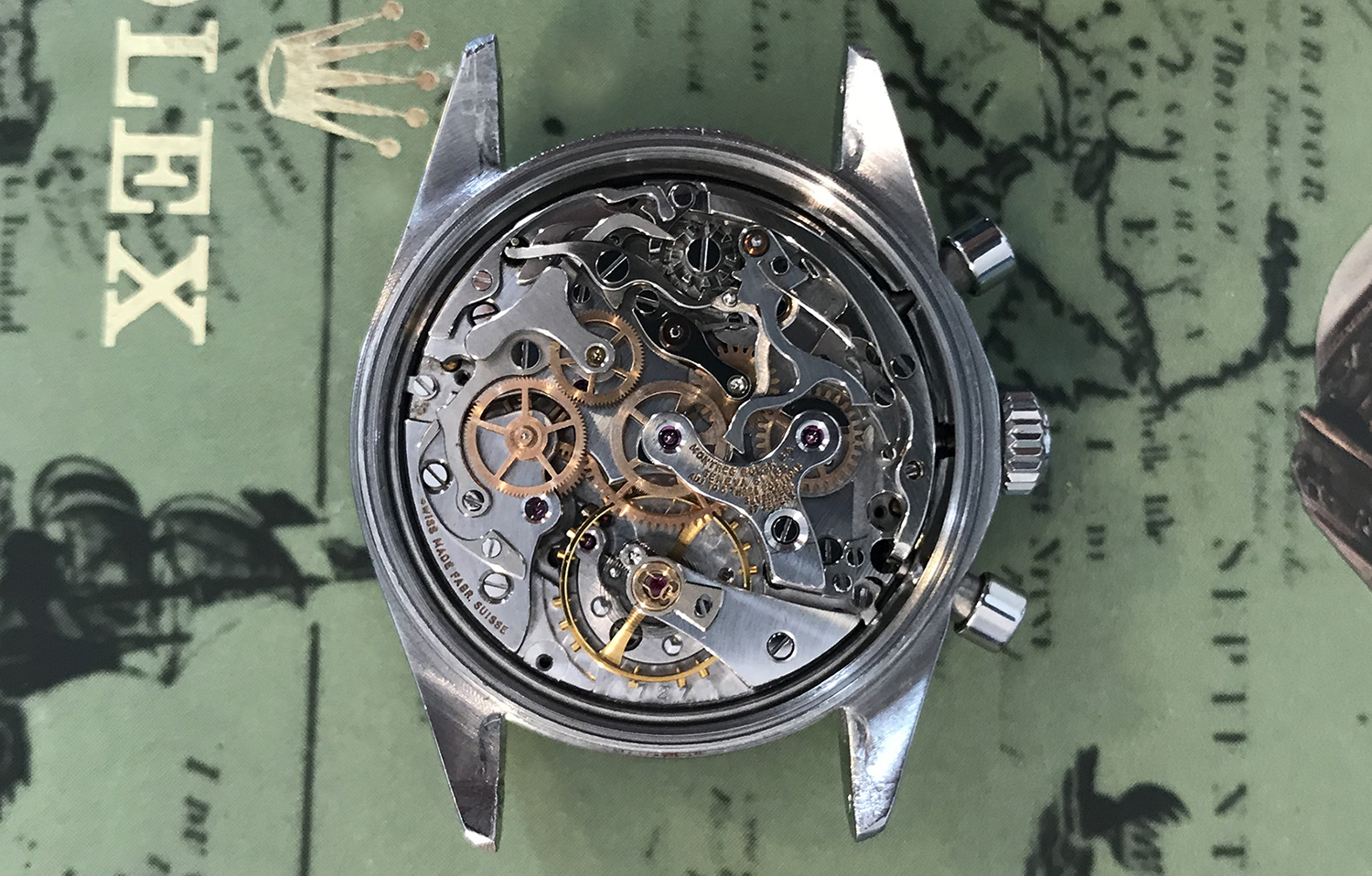 How much is a Paul Newman Rolex Daytona? (with Evolution)
The two original Paul Newman's (PN) Rolex respectively $17.8 and US$5.48 million are records, but one PN does not need to have been the property of the actor to make records or to have a consequent value. When the interest for those watches started, beginning of the 80's, the price were already high, not in comparison to today but high though. They were new Vintage watches and started to be rare. In the 90's, the prices X2 and the evolution never stopped, moreover, it went to prices never reached before for a vintage watch and this is definitely the "record" watch. Auction houses such as Sotheby's, Antiquorum, Christie's and Phillips Auction sold same models above USD$ 500,000 and sometimes more than US$ 1 million for some very rare birds. In 2020, prices go from US$ 180,000 to US$400,000 for the regular models and above USD$600,000 for more specific models, depending on the type of dials, case material (Gold 14k or 18k) and configurations. With houses like Sotheby's and Christie's which can master the art of sale, the prices raised very fast the last 10 years.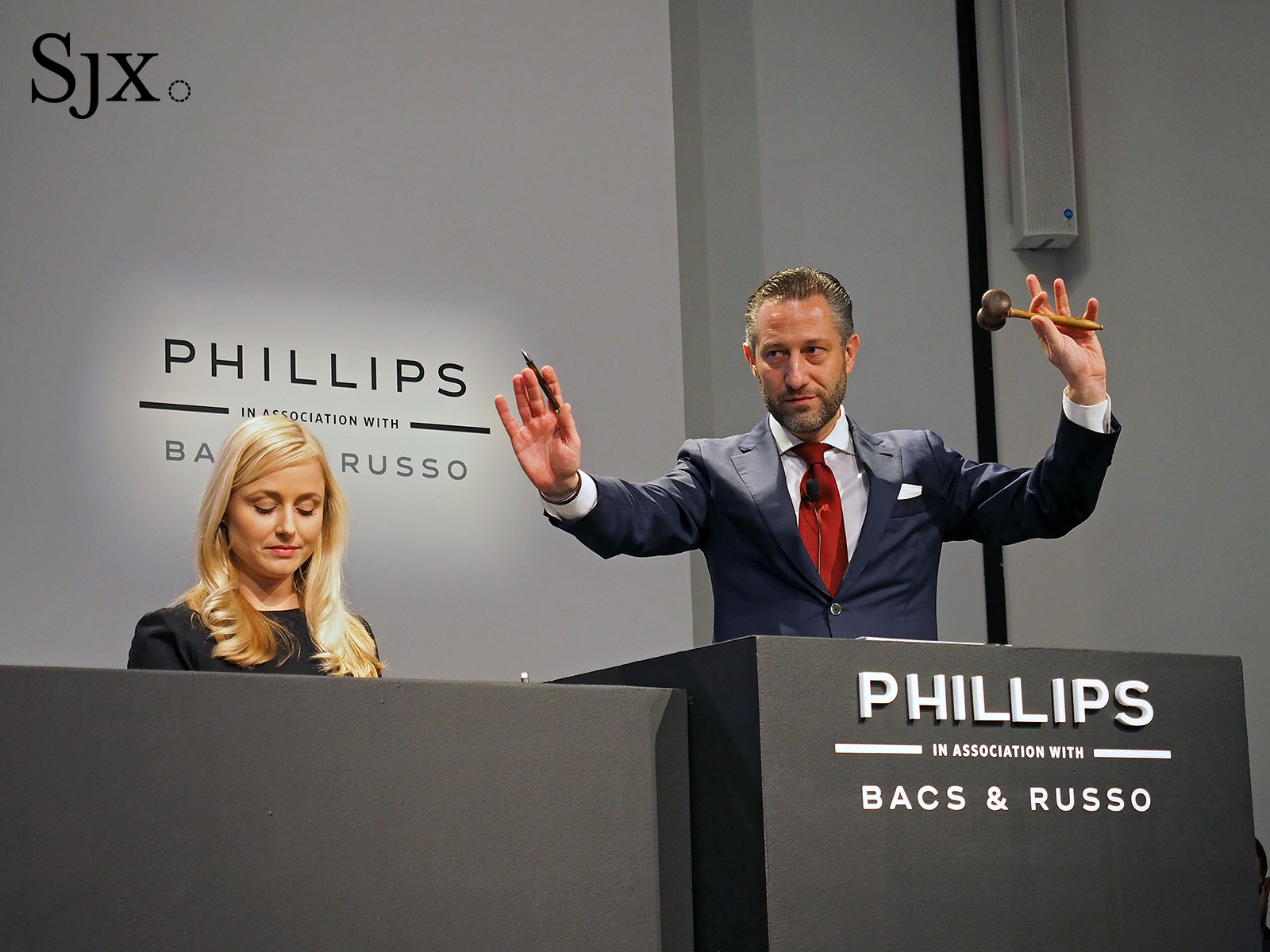 Setting The Record at Phillips Auction House.
Why is Paul Newman Daytona so expensive? From Joanne to Paul to James cox to the final owner
Just because it is rare and a huge marketing did its job… The actor was not a racing master but his popularity has always been high. Renowned auction houses made a good job on this watch and it became the most popular vintage watch ever during the last two decades.
The Sotheby's auctions and Phillips Auction house Paul Newman Price Records?
Two unbeaten records at that time… Sotheby's with a tropical dial Paul Newman for USD947,776 and Phillips auction house with the Paul Newman's personal legendary Exotic 6239 for $17.8 Million and his black Big Red 6263 Cosmograph chronograph for US$5.48 million.
Who bought the Rolex Daytona Paul Newman?
No one thinks the buyer is stupid enough to communicate his identity…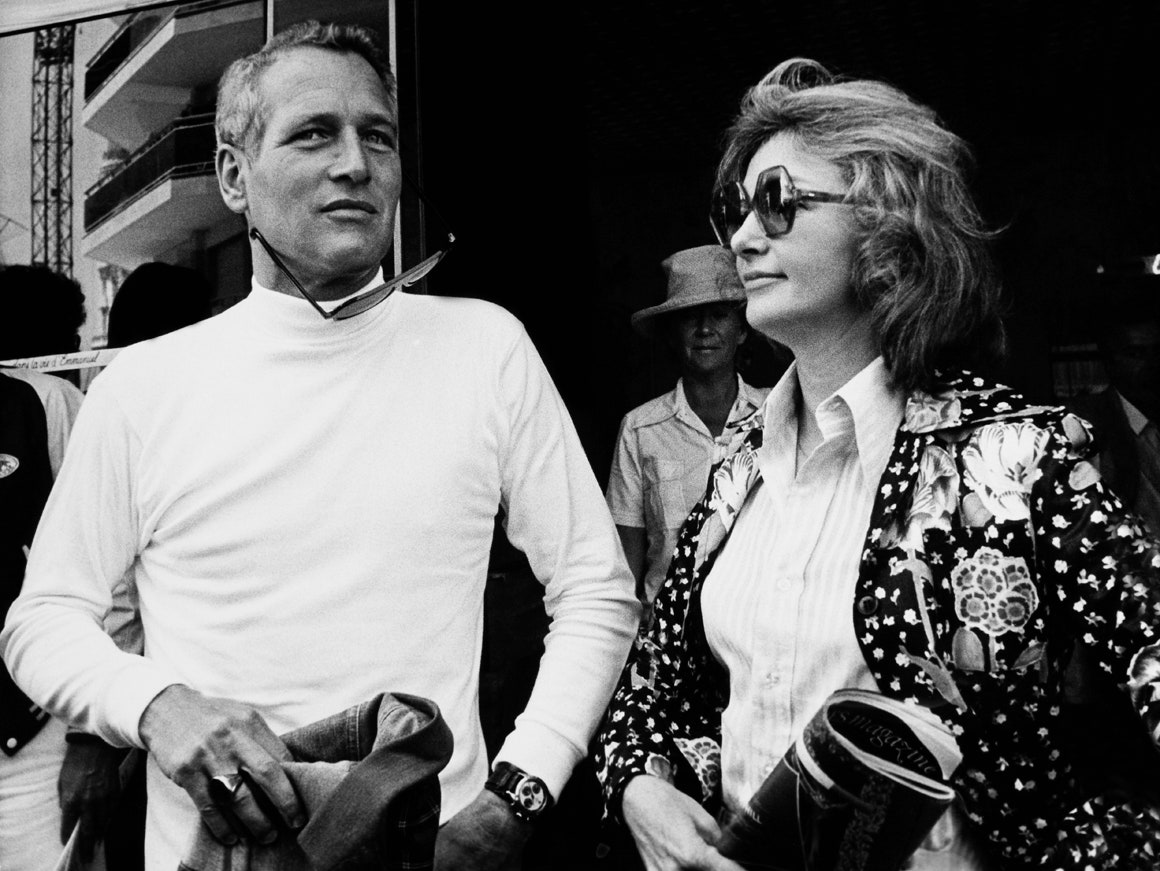 Fake Paul Newman watches – Beware
Of course, and considering the huge amounts reached, counterfeiters did their job. After all, a Paul Newman dial is just a metal plate with painting and let me know that some of them have real skills. Some dials are easy to identify as they have been industrially produced, it is easy to find some of them in the web but the quality is, thanks god, definitely not as good as the original one. Some literature and a little bit of observation and anyone could be able to spot a fake Rolex dial. But some really skilled craftsmen are working hard to match perfection and I saw some dials which would bring confusion to many experts. Fortunately, there are still sure-fire details which will help during identification.
How to make sure a Paul Newman Rolex dial is original
Personally, I use special accurate tools in order to make sure one is not buying a fake Paul Newman Daytona. For lot of watches, I use my loupe and my knowledge but for this special bird, I use an electronic microscope. Each single 10th of millimeter is inspected and the fact that I now know how it was manufactured enable to make the difference. But this is a difficult job and you need to know what you are dealing with.