The Watch
Investment Series...
Rolex GMT-Master Gilt

Investing in collection watches

The Rolex GMT Master 1675 Gilt Dial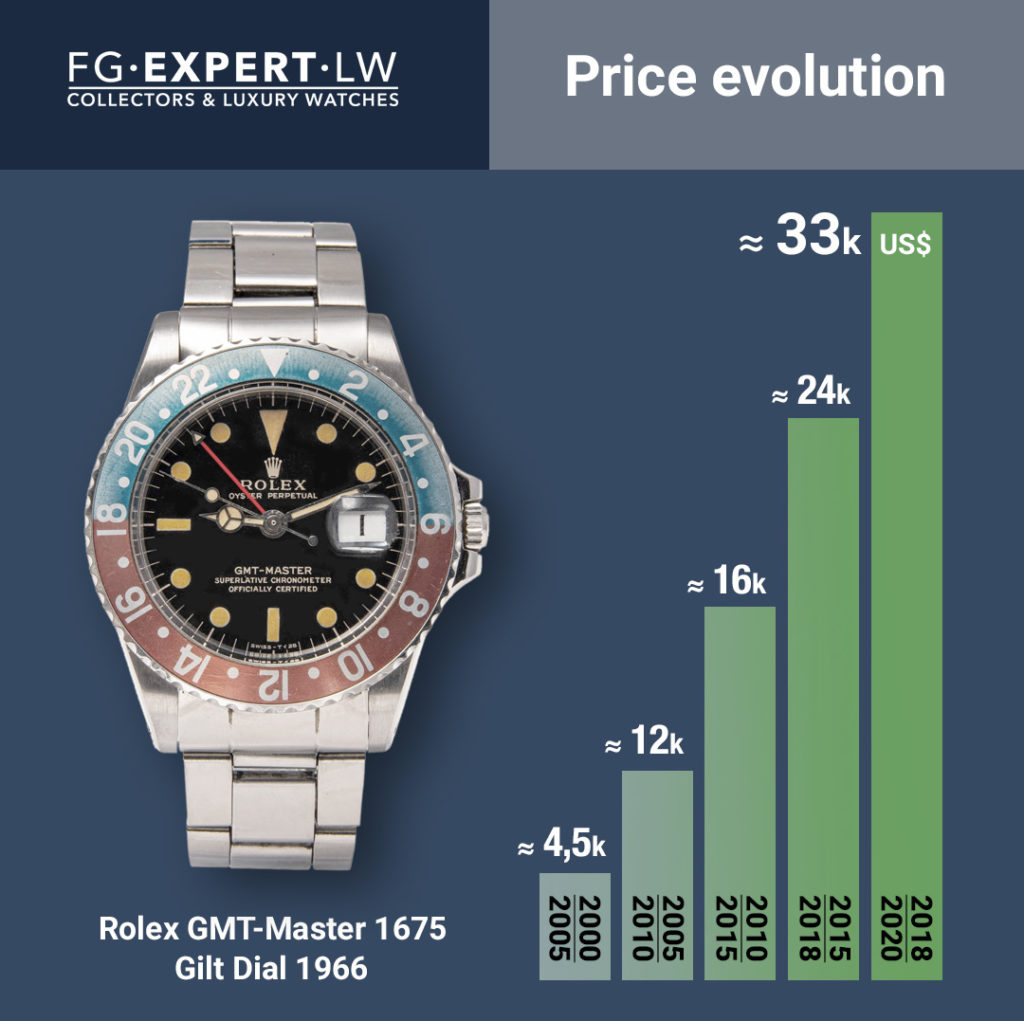 The Rolex 1675 GMT-Master is the most difficult GMT-Master to find in good condition but is definitely the best investment of the 1675 reference collection. Investing in vintage watches involves having a little bit of knowledge and such rule really applies here. Rolex released its fiirst GMT-master watch in 1954. In 1959, the brand released the 1675 and until 1966, we have seen more than 7 different gilt dials… This implies that each one of them is supposed to have been produced at a certain period and if a dial does not match the production date, the price will be lower.
The prices on the illustration are an average of what has been seen in auction houses versus vintage watches dealers versus transactions between private sellers. The equation could sound a little bit complicated but this the one which really reflects the reality. Simply taking auction houses results would lead to some mistakes and misinterpretations of the market.
Most important factor is of course the integrity of the watch. Are the all parts matching the date of production? For a Rolex GMT Master featuring a Gilt Type C Dial, which is the last gilt of the reference ever produced, 1966 would be correct whereas 1963 would not be correct and would have a negative incidence on the price. It simply means that such dial has been replaced and collectors are not keen to buy a non-matching parts watch. This applies for private seller to buyer as well as any vintage watch dealer or auction house such as Sotheby's, Christies or Phillips.    

Gilt dial… What is it?
The purpose here is not to provide a technical article about the Gilt dial Rolex GMT-Master but knowing what we are talking about has some importance. A gilt dial is a lacquered black dial (glossy) with gold painted markings. Matte dial will come later, around 1967 and back to lacquered (but no gilt markings, white only) in 1986 with the reference 16750, and this applies to Rolex GMT-Master.     
Gilt dial with gold markings on a 1966 GMT-Master (photo credit @41watch).
Vintage or new?
This is a question many collectors asked me, and I mean not recently but during the 20 past years… This is always a matter of knowing if collectors would, some day, be bored with vintage and be more interested in new watches. Two factors to take into consideration. A new watch will undoubtedly become vintage… So of course if you buy the good new reference, it has a lot of chance to become a sought-after vintage watch. But the most important factor here is, per my own expert experience, vintage watches in good condition are the best investment a collector can make. I have never seen a vintage watch decrease in value since the time I became a watch afficionado, which was around 1985, never. Now the key is choosing the good one, but there are many good vintage watches one can buy and invest profitably.
Which Gilt Dial should I buy?

Any gilt dial model is worth an investment, it is just a matter of 1. the condition of the watch and 2. all matching parts must be there. Then the consideration of how much your are willing to pay for the watch but whether you buy the lowest estimation one or the rarest for the collection, e.g. a so called "chapter ring" first generation, you can be sure you make a good investment.
Conclusion

Rolex GMT-Master gilt dial is a good investment but some factors are to be considered such as "are all the parts matching" and, even more important, are all the parts genuine? This is another question but know that many fake parts for vintage watches are now replacing the genuine parts. Two reasons for that, 1. hard to find genuine parts for restoration and 2. counterfeiters have no ethics… I will write some articles on the subject but by last book contains full chapters about fake parts and fake watches. You can order this book in this website.