The Watch
Investment Series...
Rolex GMT-Master

Investing in collection watches

The Rolex GMT Master 1675 Matte Dial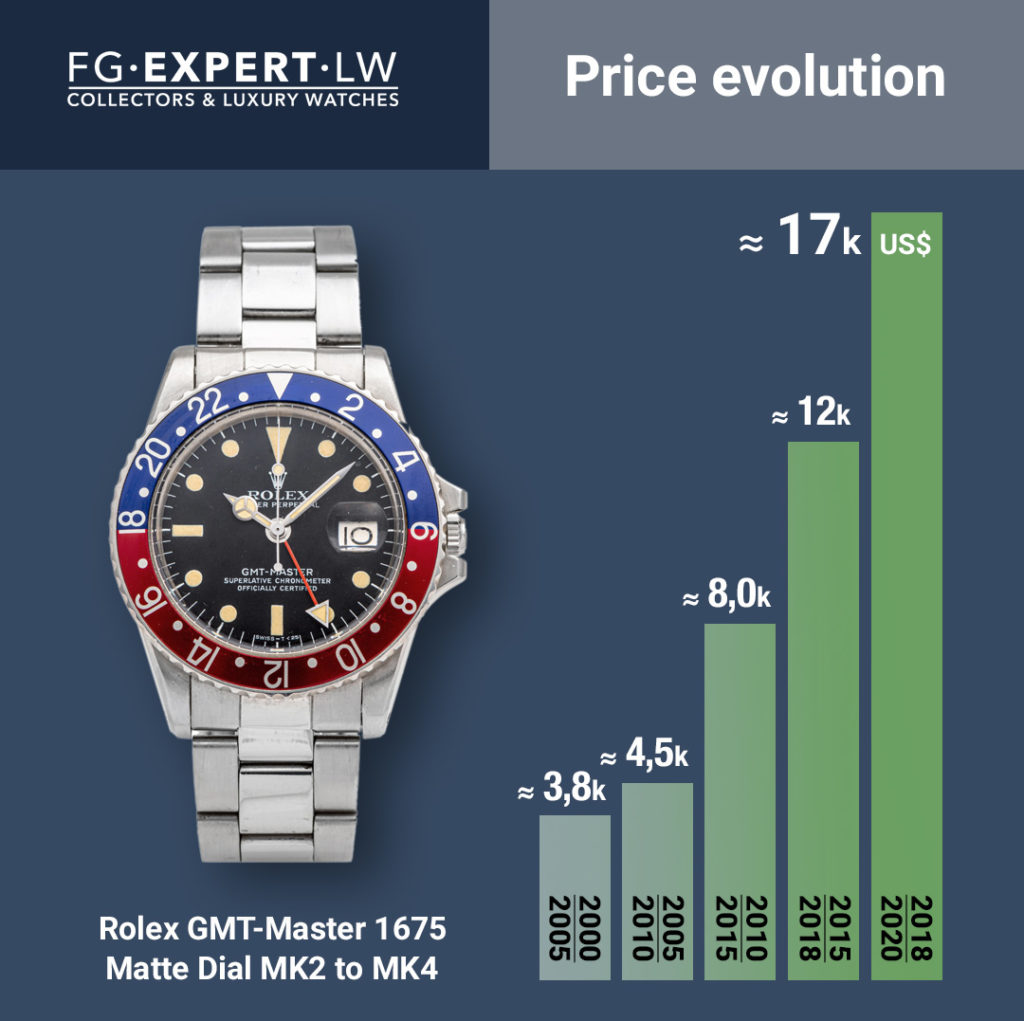 The Rolex 1675 GMT-Master is probably the Rolex best-seller and I think that it would be interesting to compare sales between this reference and the Submariner since their first release date.
I remember a time I could afford a second-hand one for less than 2,000 dollars. That was in 1995 and as you can notice on the table here, 2018-2020 show an increase of more than 16,000 US$… Not to mention that now, in 2021, the price for a good condition GMT-Master 1675 with all the matching parts (insert, dial, hands, bracelet and papers) cannot be found below US$23,000.
One thing that makes this reference a perfect collector is the fact that the watch is very robust and durable. You can find this 50 years old watch in a condition you could not guess its age and would be unable to figure it out.
This watch as always been in demand and will always be for many reasons. First, it became very popular in the United States in 1956 as the PAN-AM watch. Indeed, Rolex released this watch for the flight company as the "two time zones" watch affordable for everyone. The perfect sport watch for those who travel al around the world. But such "positioning", even though very smart, went far beyond the concept and the Rolex GMT Master became one of the most demanded sporty watch of the brand.

A watch for celebrities
This watch has been worn by more celebrities than any other one. Just type "Rolex GMT Master Celebrity" and you will find Google pages and pages. This of course makes it a must-have collector as with the rarity of the watch goes the popularity when worn by celebrities.  
Just a few celebrities wearing a Rolex GMT-Master along the years…
Affordable or just a dream?
This watch is one of the most affordable "good investment ratio" timekeeper. It features about all the ingredients a vintage collector should provide such as the matte painted dial, the aluminum "Pepsi" insert and the plexi crystal. Add to this the fact that such watch is enough solid to be freely worn, with a little bit of care, instead of being hidden in a safe for years before the time the price is so high one is ready to propose his treasure to an auction house….
Which reference/version should I buy?

The matte dial, as stated above, is the most affordable and best investment ratio. Before this reference, Rolex produced GMR-Master watches with so-called GIlt Dials, which are lacquered dials with gold markings. These references can be more expensive to and extent of six times the price, e.g. the 6542 first GMT-Master you could not find below US$100,000… Different matte dials has been produced from around 1967 to 1988. MK1 to MK5 to be precise…
How should I decide which Rolex GMT-Master is worth an investment?

The first factor, and most important, is "are all my watch parts matching". A good example would be, and I will post different articles on that subject later on, a 1970 GMT-Master with: MK2 matte dial, thin case, 1970 matching reference number, tritium hands, matching folded Oyster bracelet, Red-Back insert and Tropic plexiglass crystal. This could sound rather technical but if you are not familiar with the subject, many books and articles have been written which will enable you to make the good choice. You can even ask me if you need help, just fill the form below…