The Watch
Investment Series...
The Red Submariner

Investing in collection watches

The Rolex Submariner 1680 MK2 & MK3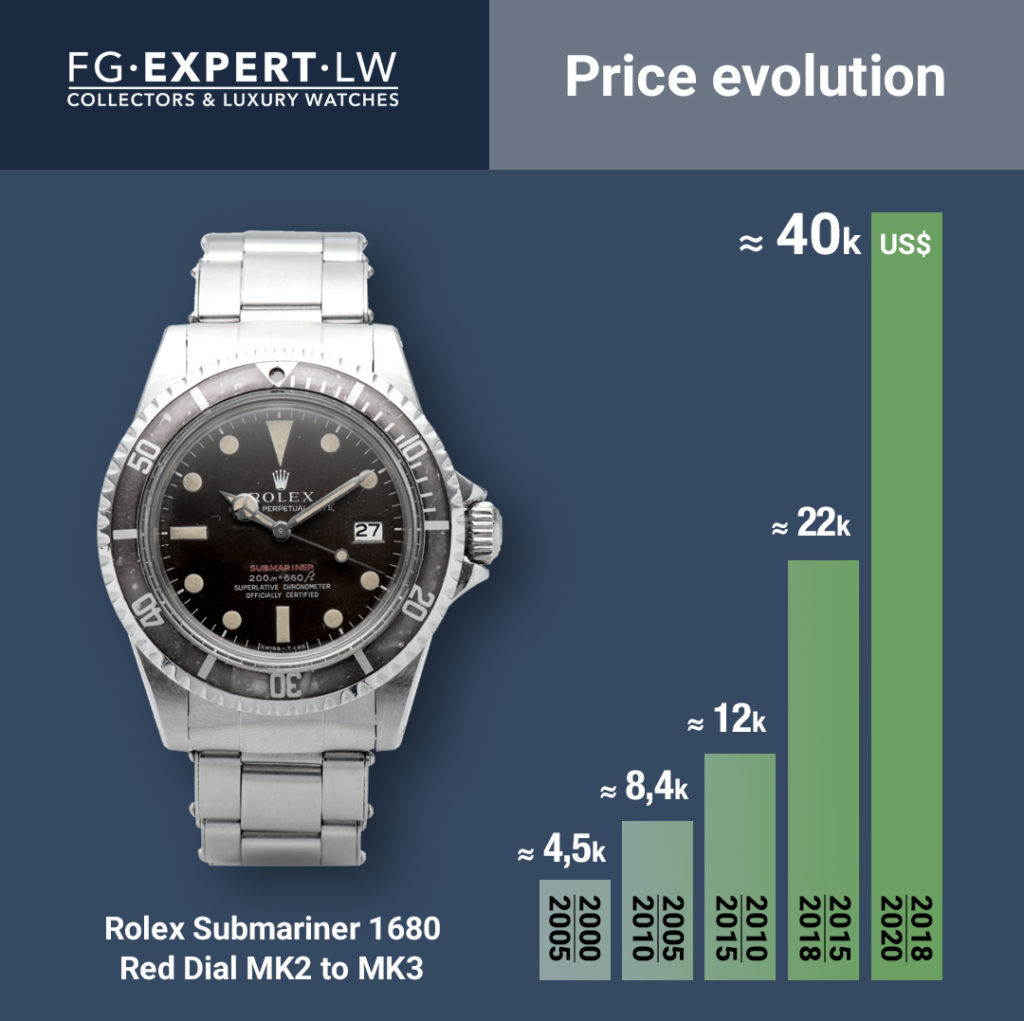 It could sound little technical, not to say weird, for newbies to hear about MK2 and MK3 but this watch deserved to be separated into two different articles. We are talking in these series about investment and prices, and the fact is MK2 & MK3 versus MK4 to MK6 show a consequent value difference.
The main reason is the quantity of watches produced featuring the dial (MK2 or MK3) to be more precise.
The purpose here is not to go into technical details but have an objective view of the market for such watch. The Rolex Submariner reference 1680 is one of the most popular diving watch and, of course, when one owns a good condition piece, he can see, year after year, a consequent increase of value.
I bought my first one for less than US$2,500, bought from a diver in the South of France. I was almost 30 years ago and now when I attend an auction sale and see that the same watch, in the same condition,  is awarded US$45,000 without fees, I just ask myself why didn't I collect 30 of them when I was 20…
This watch is worth an investment and should be part of a collection, no risk, robust, perfect design. This watch is part of the top 10 must-have investment watch, without any doubt. 
Released in 1967, this diving watch was an evolution of the 5513 reference. The difference is simply the date which was absent from its predecessor. The Rolex 5513 was the most popular diving watch at that time and Rolex noticed that a majority of owners were wearing such watch as a fashion accessory instead of a pure diving tool. Then why not adding a date on the watch…
Rolex Submariner MK2 and MK3 broadly represents a production amount of 15% versus 80% for MK4 to MK6. The remaining 5% are for the MK1, a rare bird too difficult to find to be teased in an article… One particularity of the MK2 and MK3 dials is that they can turn brown over time. The reason for such color change, called "Tropical", is the varnish used on the dial. Such varnish contained ferrous oxide which tend to rust with time. The price changes consequently depending on the level of color change, the difference between a black dial and a light brown one can be 200%.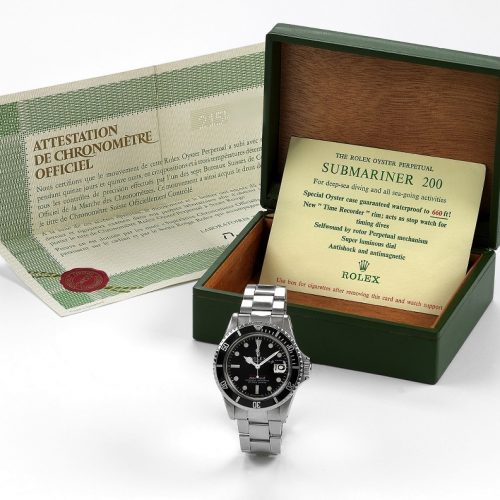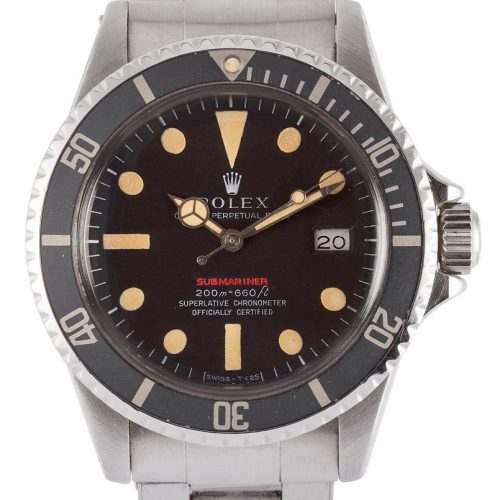 Rolex Submariner 1680 MK2 dial with box and papers (left) and MK3 (right).
Should I invest on a MK2 or MK3 instead of MK4 to MK6?
If you have endless funds, the question would be yes, and I would even advice to purchase both in that case. But the answer from my viewpoint is no. The gain ratio between these two categories is the same in percentage. You should just invest in the category you can buy, some will prefer two MK4 instead of one MK3… This is just a matter of strategy at this point.
Original Papers or not?
It is always better to have the original papers of a watch, but such papers must be original. Many end-60's watches came with hand written papers. And hand-written papers means nothing to any collector. Vintage blank papers are available on websites such eBay and anyone can fill them out and use a simple iron in order to make them look older. Too hard to authenticate for any expert. But, if you find one with punched paper and stamp of the dealer which enables traceability… plus an original box with the little "1680 sticker on the outer-box, plus the booklets and the anchor, then yes, it is worth the investment.