The Watch
Investment Series...
The Red Submariner Part 2

Investing in collection watches

The Rolex Submariner 1680 MK4 to MK6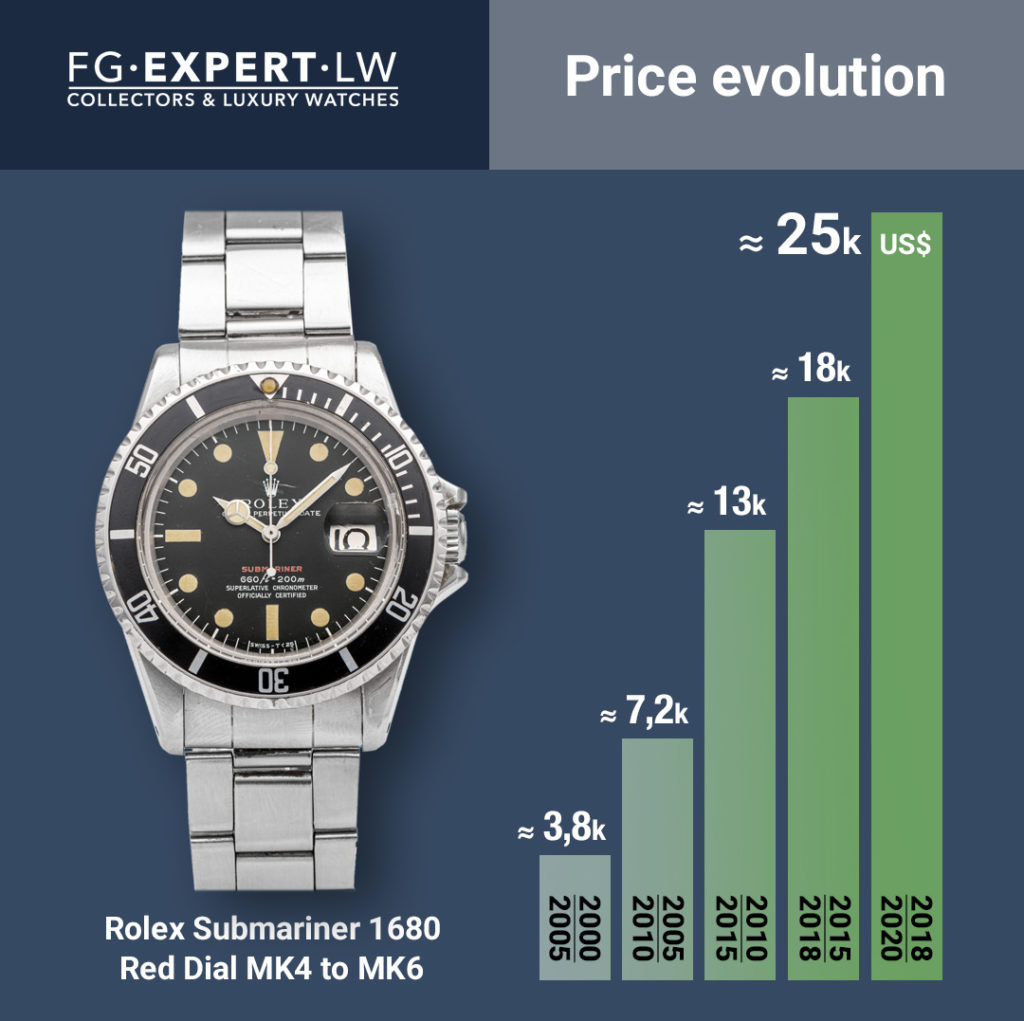 We went through many factors regarding the fact that MK2 and Mk3 Rolex Submariner single Red are worth an investment but there are three other red dial Submariner which are also worth saving money, namely MK4, MK5 and MK6. Even though MK6 is the rarest one, there is no price difference between these different productions. The only important factor being the condition of the watch, the matching parts and, if possible, the original punched papers. 
The story is the same than MK2 and MK3 except a difference in pricing. One should know that the production for these MK4 to MK6 Submariners represents 80% of the whole Red Submariner production, which is mainly what makes it less expensive than the two other ones.
Nevertheless, it does not prevent such watch to be a sought-after collection timepiece. We must underline here that such watches have been produced for about six years only, and it was about 45 years ago…
30 years ago, these collector watches were sold in collectors markets and classified ads but they fast started to be available at pro shops and finally appeared in different auction houses sales, starting with Antiquorum to finally land at Sotheby's, Phillips and Chrisitie's…
They are now part of the most sought-after collectors watches and definitely deserve a consequent place in an investment perspective. 
How do I make the difference between all these different "MK2, 3, 4, 5 and 6"?
The answer needs to be illustrated. One of the best reference website for such answer is DRSD (drsd.com). The production dates are as follow:
Mark 1 (Meters First) 1969
Mark 2 & 3 (Meters First) 1969 – 1970
Mark 4 (Open "6" Feet First) From 1970
Mark 5 (Open "6" Feet First) From 1970
Mark 6 (Closed "6" Feet First) From 1970
These references are just for information and based on what has been observed through time by professional, collectors and experts. None of this has ever been confirmed by Rolex. The explanation for MK 2 & 3 being in the same time frame, and same for MK4 and 5, is just a matter of production bacth from dial providers (Lemrich and Beyeler). the production of Rolex at that time was so important that dials manufacturers could not produce such quantity, so Rolex used different ones. Each one delivered its batch and dials were simply mounted in the watches. This is not a precise sicnece you should understand, but it helps to avoid mistakes such as buying a MK5 from 1969 per example, which for sure does not exist…
Then to recognize and identify the correct dial, there are little differences that one should observe in the pictures below…